"Short-ribs on the mesquite grill"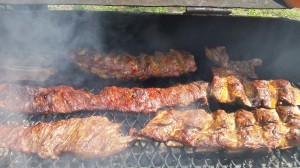 A beautiful day for a BBQ here in The Rio Grande Valley! We ended up buying chicken, some funny looking ultra-thin beef, fajitas, and short-ribs. Normally, I know what I'm getting, but today I went to one of those local meat markets and ordered a package deal. Not to smart on my part, especially on those thin beef "what-cha-we-call-it!?" Don't know. They were ultra thin beef strips with bone and resembled bacon (didn't taste much like bacon though). Needless to say, I learned! Next time I am hand picking the goods.
At times when I cook ribs, I like to season them before they hit the grill with a multi-spice mix. For today, I used paprika, coarse salt, freshly ground pepper, a dash of Cheyenne pepper, and garlic salt.
Normally I grill them over indirect medium heat for one hour or until I am satisfied with how well they are cooked. Today I grilled them over low heat. My personal preference for ribs is well done, but juicy. I do not cover them with aluminum foil, but instead let them get as much smoky flavor during the cooking process.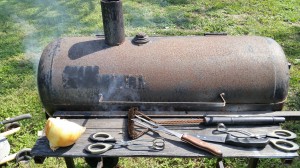 Do close the lid to prevent flare ups which could ruin your meal; should the ribs catch on fire. If there is too much unwarranted smoke, check out the meal; it might be on fire. Be at the ready to dose flames with H2O (water) just in case there is a fire or with a plate to pull them out until the flames die down.
WHEN THE GRILL IS SMOKING TOO MUCH, AND IT IS NOT SUPPOSE TO.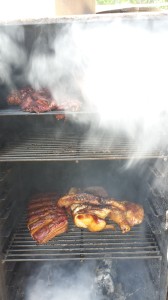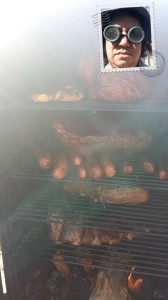 This grill was smoking and it was suppose too! Unfortunately, it was also on fire… I was smoking brisket for the next day and had placed our dinner there to keep it warm until the ladies got home. The excessive grease on the ribs and sausage caught the attention of the fire.
THE RESULT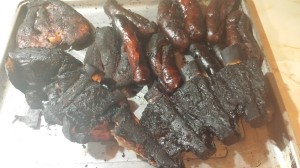 Everything burned to a crisp! Ouch! At the very least, the  top two briskets survived and the bottom one had to get leaned up a bit (I sliced off the burned area after it had cooled off the next day). More on how I prepare my mouth watering briskets later. That day we ended ordering out. Well, at least I learned a bit. If you are keeping stuff warm on the grill; wrap it in aluminum foil and put it away from the heat source, its already cooked and just needs to keep warm.
Til later. Go grill something will ya!